The National Day of Mourning is observed annually in Canada on April 28 to honour those who have lost their lives while working on the job. The purpose of the National Day of Mourning is two-fold … to remember and honour those lives lost or injured and to renew the commitment to improving health and safety in the workplace … to prevent further deaths, injuries and diseases from work.
Every year workers, families, employers, and others come together at ceremonies held around the province and the country to remember those who have lost their lives to work-related incidents or occupational disease, and to renew their commitment to creating safe workplaces. Since its inception, the observance has spread to over 80 countries around the world, but is known in most other countries as the Workers' Memorial Day.
The Canadian flag on Parliament Hill is typically flown at half-mast on April 28, and workers and employees observe this day in various ways including observing moments of silence.
To mark our school district's commitment in observance of the National Day of Mourning, Coast Mountains School District flags will be lowered to half-mast before the start of school on Friday, April 28 and raised at the end of the school day on April 28.
For more information, please visit the BC Day of Mourning website at dayofmourning.bc.ca.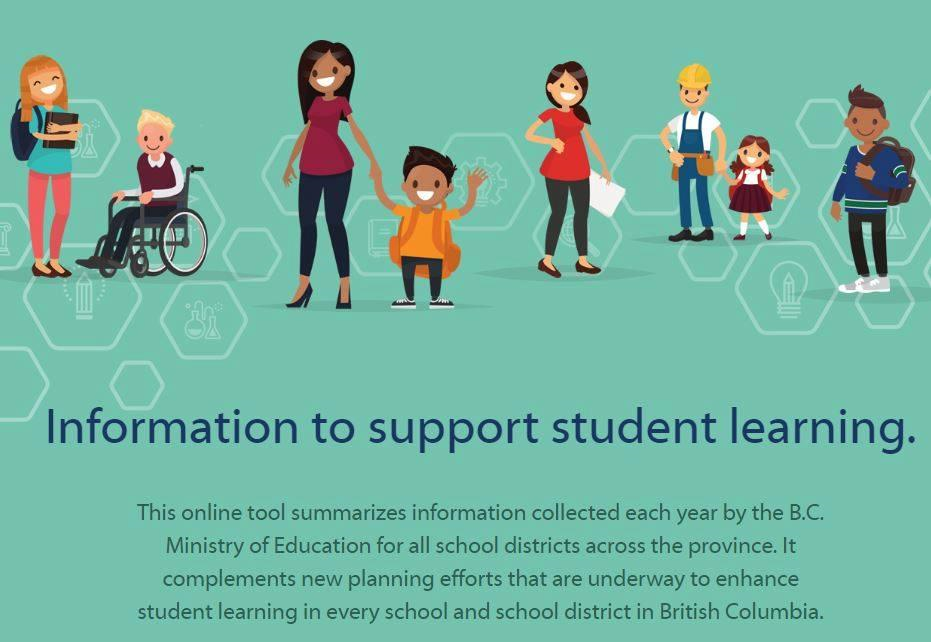 BC's Ministry of Education announced a new smartphone and tablet-friendly website will provide interactive information about student outcomes to make it easier for parents and students, as well as school districts, to understand and use information that will enhance education for students.
By this fall, information about individual schools will be available to give parents a better understanding about how their child's school is doing across the district.  Right now, access to measures of student success, such as grade to grade transitions, completion rates, foundation skills assessment results and other outcomes, in all districts is available to compare the data with the latest trends and provincial averages.
On the website, school district by school district reports are now available in easy-to-read and interactive formats, giving parents a better understanding of their school district's strengths and areas for continuous improvements, as well as B.C.'s education system as a whole. Information contained in these reports also includes community and student demographics, post-secondary and career preparation, as well as student satisfaction.
The website works on smartphones, tablets and computers of all kinds and is easily accessible at:
www.bced.gov.bc.ca/reporting/systemperformance
For more information, please reference the following Ministry of Education's announcement:
https://news.gov.bc.ca/releases/2017EDUC0091-001075
Additional information will be forthcoming to school districts from the Ministry of Education regarding this exciting and helpful initiative for students and parents.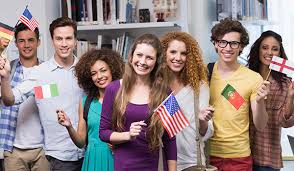 Homestay Families Wanted
(Article in PDF Format Poster)
Coast Mountains School District 82 and Northwest Community College are seeking homestay host families for international students.  Students from around the world are choosing to study in beautiful and pristine northwest BC and you can play an important role in making their Canadian experience truly unforgettable.
High school and college students want to experience high-quality, personalized education while experiencing local culture, discovering the great outdoors and enjoying the safety and friendliness of smaller communities.  Help us show them our true regional hospitality by becoming a homestay family.
Living with local families helps international students immerse themselves in Canadian culture and helps in developing English language skills.  By opening your home to a student, they will experience daily life in Canada, while introducing your family to the unique opportunity to learn about another culture.  It is also the beginning of what often becomes a life-long, cross-cultural friendship.
Students will need both short and long-term homestay experiences.
For more information about becoming a host family for the International Student Homestay Program, please visit the school district's new International Student Program website at:
Or contact our Director of Instruction for School Support, Janet Meyer at (250) 638-4480 or study@cmsd.bc.ca for assistance.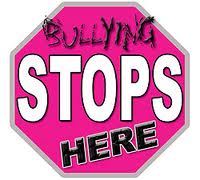 Wednesday, February 22nd is Day of Pink across British Columbia and Canada! 
Join thousands of students and staff across British Columbia to show your support for anti-bullying initiatives: wear the official anti-bullying colour, pink!
Pink Day started in 2007 when two Nova Scotia high school students decided to create a "Sea of Pink" to support a grade 9 boy who was called homophobic names when he wore a pink shirt to school.  See related story on CBC.ca website.   This day is now celebrated right across Canada.
A sea of pink in schools and communities will show BC's commitment to a safe and inclusive province that actively promotes respectful and kind behaviour among its citizens.
On February 22nd we encourage everyone to practice kindness.  Together we can end bullying!
For the information of parents, guardians and caregivers of CMSD82 students in Grades 4 an
d 7.
The Foundation Skills Assessment is an annual province-wide assessment of British Columbia students' academic skills, and provides a snapshot of how well BC students are learning foundation skills in Reading Comprehension, Writing, and Numeracy.
The main purpose of the assessment is to help the province, school districts, schools and school planning councils evaluate how well students are achieving basic skills, and make plans to improve student achievement.  FSA is designed and developed by British Columbia educators.  The skills assessed are linked to the provincial curriculum and provincial performance standards.
The assessment is administered annually to Grade 4 and 7 students in public and provincially funded independent schools.
FSA 2017 Assessment Administration Dates
Assessment Administration in Schools runs from:  January 9 to February 17, 2017
More information is available on the Ministry of Education's website at:
http://www2.gov.bc.ca/assets/gov/education/kindergarten-to-grade-12/teach/pdfs/assessment/fsabrochure.pdf
MOE/CMSD82 Community Meeting K-9 Student Progress Reporting, Nov. 28, 2016
(PDF Format Poster)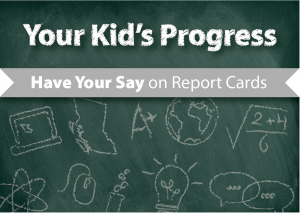 British Columbia's new school curriculum is making sure students are ready to succeed in our changing world. The Ministry of Education wants parents to share how they want to learn about their child's progress from Kindergarten to Grade 9. Together with educators, the government is developing a new reporting approach for students in Kindergarten to Grade 9, to give parents a deeper understanding of their child's progress at school. With new curriculum being implemented in B.C. classrooms this school year, the way student progress is reported must change too.
The Ministry's parent engagement on student reporting will run from October 2016 to February 28, 2017. There will be two primary ways for parents to be involved and have an opportunity to provide feedback on student reporting:
Online Feedback Forum at www.engage.gov.bc.ca/yourkidsprogress/ (information about changes to the curriculum, future of student reporting with a series of questions asking for parent feedback).
Community Sessions in 10 locations around the province including Terrace on November 28, 2016 hosted by Coast Mountains Board of Education School District 82.  The community meetings will be open-house style for the first two hours. Parents and interested community members can come in and learn more, talk to Ministry and school district staff, and then complete a feedback form. The last hour will be a Ministry facilitated design session specifically focused on the future of reporting student progress.
ATTEND THE COMMUNITY MEETING TO LEARN MORE
EVERYONE IS WELCOME!
DATE & TIME:  Monday, November 28, 2016, 5:00 p.m. to 8:00 p.m.
LOCATION:  Northwest Trades & Employment Training Centre,
3120 Highway 16 East, Terrace
(formerly Thornhill Junior Secondary School
https://goo.gl/maps/Mq3pZa8WxeR2)
Pre-registration or RSVP's are not required for the community meeting.
Light snacks and refreshments will be provided.
Please contact Carole Gagnon, CMSD82 Executive Assistant at (250) 638-4401 or carole.gagnon@cmsd.bc.ca, should you have questions regarding the Terrace Community Meeting.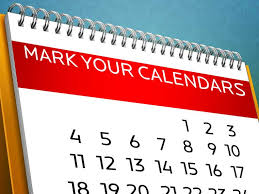 Notice of Aboriginal Enhancement Agreement Public Consultation Meetings, Terrace & Kitimat (PDF Format)
Coast Mountains Board of Education School District 82 is holding a series of Public Consultation Meetings to discuss student learning in our Terrace and Kitimat schools.  Of particular focus will be the success of our Aboriginal learners.
The Public Consultation Meetings will take place as follows:
Wednesday, December 9, 2015 – 6:30 p.m. to 8:30 p.m.
Suwilaawks Community School (Library) – Terrace
Tuesday, December 15, 2015 – 6:30 p.m. to 8:30 p.m.
Haisla Community School (Community Room) – Kitamaat Village
All members of the public are invited to attend.
A summary of feedback received from the Public Consultation Meetings will be provided to the District Aboriginal Education Committee for their consideration and review for the Aboriginal Enhancement Agreement.
For further information or to provide a written submission prior to the meeting, please contact:
Carole Gagnon, Executive Assistant that the Board of Education Office
Tel: (250) 638-4401 or 1-855-635-4931, Ext. 4401
Email: carole.gagnon@cmsd.bc.ca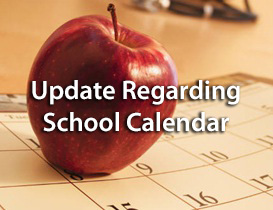 CMSD82 Amended 2015-2016 School Calendar & Backgrounder
CMSD82 Letter to Parents-Guardians re Amended 2015-2016 School Calendar
School districts across the province are involved in calendar amendments related to the new Ministry of Education Curriculum Implementation Plan that has recently been announced.  The Ministry of Education and the British Columbia Teachers' Federation (BCTF), supported by provincial partners in education, announced a plan to support the implementation of the new curriculum.
As part of this plan, school districts have been asked to add 10 hours of non-instructional time to this school year which will reduce instructional hours equivalent to two regular school days.  The time will be provided for teachers to familiarize themselves with the new curriculum and to plan for its implementation in the coming year.
Coast Mountains School District in collaboration with the Coast Mountain Teachers' Federation has selected Friday, January 15, 2016 and Friday, April 29, 2016 as the two non-instructional training days.  Both days were selected with a mind to minimizing the impact on families and student learning.
On November 25, 2015 the Board of Education approved a motion to amend the 2015-2016 School Calendar reflecting Friday, January 15, 2016 and Friday, April 29, 2016 as non-instructional days.  The addition of these two non-instructional days will support Coast Mountains School District's teachers as they learn the new Ministry of Education curriculum.  For clarity, students will not attend school on January 15 and April 29, 2016.  Please view the amended 2015-2016 School Calendar as provided above.
In response to the rapidly changing world that students are entering, the new Ministry of Education curriculum is being redesigned to help teachers create learning environments that are both engaging and personalized for students.  The redesigned curriculum focuses on core competencies, essential learning and literacy and numeracy foundations.  More information for parents can be found at https://curriculum.gov.bc.ca.
We are looking forward to the exciting times ahead in our classrooms as we help our students succeed in this changing world.
Sincerely,
Katherine McIntosh
Superintendent of Schools
Should you have questions or require additional information, please contact Carole Gagnon, Executive Assistant at the Board of Education Office as follows:
Tel:  (250) 638-4401 or Toll Free 1-855-635-4931, Local 4401
Fax: 1-888-290-4786
Email:  carole.gagnon@cmsd.bc.ca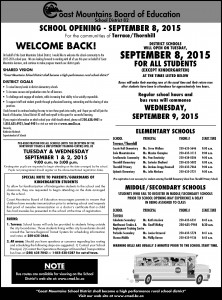 Click link below to see the enlarged version with bus routes included:
2015-2016 CMSD82 Return to School Message – Terrace-Thornhill

Once again, our students and staff have worked really hard this year to build reading skills at Uplands.  And what gains children are making!  So exciting!  Summer is a break from school but we shouldn't think of it as a break from reading.  Along with time outdoors, exercise and healthy eating, reading should be part of our daily routines.  Here are some suggestions for reading at home.
Your child will be coming home with a Prevent the Summer Slide certificate.  They can use this to record 6 of the books they read or have read to them.  When they return it at the beginning of September, they will get to participate in a school summer reading fun time.  Below is a copy of the certificate in case yours gets misplaced.
Uplands Summer Slide certificate
Happy Reading!